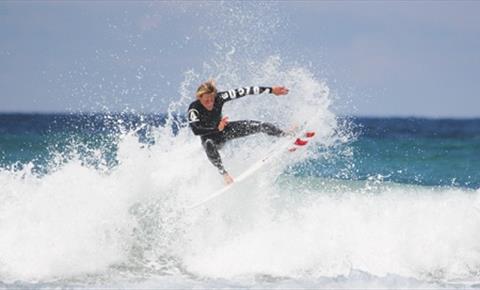 Get ready for a Cornwall activity holiday!
Do you like your holidays action packed? Do you like nothing more than getting out there and trying new experiences? Then a Cornwall activity holiday at Porth Beach Holiday Park is for you!
For adrenaline junkies or those just wanting to try something for the first time, there's something in Cornwall waiting for you!
From sea kayaking and surfing to coasteering and pony trekking, you can do it all just a short distance from our holiday park. We've put together a handy guide for anyone considering a Cornwall activity holiday, so you know where to go and what to do! Take a peek below and decide what will be your next adventure….
Surfing
Anyone looking to holiday in Cornwall, wanting to try a new experience, simply has to have a go at surfing. And, let's face it, you're certainly not short of beaches where you can jump on a board! However, you might want to consider some lessons before you merrily dive in. Thankfully, we here at Porth Beach Holiday Park have teamed up with Blue Surf School Lessons run daily at 10am and 2pm. Blue Surf School offer free pick up from our site from where they will take you to their base and get you into your wetsuits. You'll then head off to the beach for your lesson which will last approximately two hours. To book a lesson call 07586692869 or visit their website here where you can book online.
Kitesurfing, wave ski and stand up paddleboarding
Watergate Bay, a few minutes up the coast from our holiday park, is a mecca for kite surfers. This long and wide expanse of golden sandy beach is often a little quitter than the busier beaches of central Newquay – and is therefore the perfect place to learn a new skill. The Extreme Academy at Watergate Bay is a British Kitesurfing Association approved school and their instructors have a great deal of experience. Before you know it they'll have you flying along the beach, powered by the wind! The Extreme Academy also offer lessons in a host of other 'extreme' sports, including wave ski and the latest craze, stand up paddleboarding.
Coasteering
Have you ever looked down into the sea from a cliff edge and thought to yourself, 'that's a long way down'. Well, coasteering will pretty much obliterate those fears as you jump from those cliff tops and straight into the ocean below! With the Newquay Activity Centre you will explore the wild coast of Cornwall and its unique craggy cliffs like you've never done before. Join one of our coasteering adventures and experience a buzz like no other as you clamber through old smugglers' caves, spot incredible marine life, negotiate natural rapids and whirlpools before attempting adrenalin-fuelled sea cliff jumps.
Horse riding and pony trekking
Away from the surf, Newquay Riding Stables offers you the chance for a different type of Cornwall activity holiday. Here you can ride along the coast and beach for an hour or two in the company of experienced leaders. The stables can cater for individuals, parties and even children (over the age of 4).
Fishing and diving off the Cornwall coast
The Newquay coast has plenty to offer those who like their adventures on the water. You can experience reef diving, fishing trips and sea safaris. From Pollack, cod, ling to bream and conger – not knowing what creature from the deep you might be able to bag, has made Newquay a great spot for fishing. There are many companies offering fishing trips in Newquay, from half days on the water to a full eight hours at sea, there are many options open to the keen angler wanting to get their fix.
So, if you're looking for a Cornwall activity holiday then look no further than Porth Beach Holiday Park. From surfing to horse riding, you can do it all close within a short distance of our site.
Sign-up for news and offers
By sending this form you are consenting to email marketing and the terms of our privacy policy