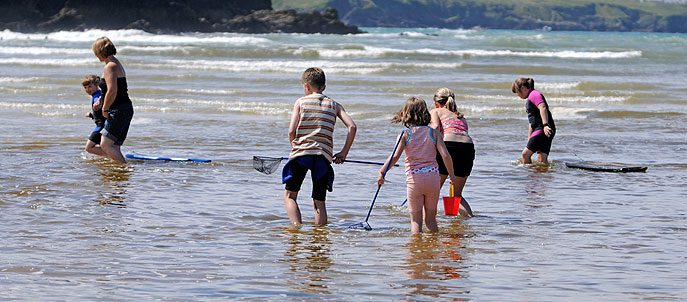 Life's a beach…Discover holidays in Newquay
Discover holidays in Newquay and say hello to stunning beaches, breathtaking cliff top views and fantastic family attractions.
Newquay is widely regarded as one of Cornwall's premier resorts and this vibrant town is just a short distance from our holiday park. It is perhaps best known for its many beaches and has garnished a reputation as the surfing capital of the UK, with the iconic Fistral Beach at the heart of the county's surfing scene.
Holidays in Newquay are a must for lovers of the surf and sand. Nowhere else in the UK are there so many miles of golden sand just yards from a busy and bustling town centre.
There are eight beaches in Newquay – all of which are very different. From the monster waves of Fistral to the calmer waters of Crantock, there's a beach to suit you and your family. And here at Porth Beach Holiday Park, you'll find one of Newquay's quieter beaches right on your doorstep. Just a 100 yards from our Newquay campsite, Porth Beach is set in a tranquil bay and is an ideal spot to let the kids build the perfect sandcastles!
Holidays in Newquay are not just about going to the beach – there's so much more on offer here. There's plenty of things to do in Newquay, from exploring the busy town centre shops to visiting the popular Newquay Zoo, with its lions, monkeys and penguins, or how about seeing the cows and bulls at Dairy Land Farm World?
If you're a lover of fine dining then there's some great restaurants nearby too. Just a short drive from our Newquay touring park is Watergate Bay – home to Jamie Oliver's Fifteen Cornwall restaurant, where you can sample some of the finest local cuisine.
So, discover holidays in Newquay and explore all that this magical part of Cornwall has to offer. Take a look at all the exciting activities you can do in the Newquay area below…
Beaches
Newquay is famed for its beaches and for those who like nothing more than to relax and unwind on the golden sand, as the summer sun beats down, then this is the destination for you!
There are no fewer than 12 beaches in and around the immediate Newquay area, so there's bound to be one that suits you. From the surfer's paradise of Fistral Beach to the quieter calms of Crantock and Watergate Bay, every one is different. And our holiday park is just 150 yards from one of the best – Porth Beach.
The beaches are at the heart of Newquay – they are the adventure playground where kids and adults alike can truly feel like they're away from it all. The Newquay Beach Guide details all the different aspects of Newquay's Beaches, including Towan, Great Western, Mawgan Porth and Fistral.
Surfing
Whether you're an experienced surfer or want to learn to catch your first wave, there's some fantastic surfing opportunities just yards from our Cornwall holiday park.
You can enjoy surfing in Newquay – on any one of the magnificent beaches, including the world-renowned Fistral Beach – or learn to surf in the more relaxing climes of Porth Beach, located just 100 metres from our holiday park.
Whilst in Newquay a surf lesson is a must! Learn to surf with Blue Surf School. Lessons run daily at 10am and 2pm. Blue Surf School offer free pick up from Porth Beach Holiday Park from where they will take you to their base and get you into your wetsuits. You'll then head off to the beach for your lesson which will last approximately two hours. Blue Surf School guarantee that you will absolutely love it and that it will be one of the highlights for your stay in Newquay. To book a lesson call 07586692869 or visit their website here where you can book online.
Coasteering
An increasingly popular activity in Newquay, coasteering is not for the faint hearted! You will see the Cornish coastline in a completely different way as you swim through caves and jump from cliff tops into the stunning blue waters below. This is probably one to miss for those who have a fear of heights but is something truly unique.
There are many companies who organise and run coasteering activities in Newquay, including Shoreline Adventures.
Fishing and diving
The Newquay coast has plenty to offer those who like their adventures on the water. You can experience reef diving, fishing trips and sea safaris. From Pollack, cod, ling to bream and conger – not knowing what creature from the deep you might be able to bag, has made Newquay a great spot for fishing. There are many companies offering fishing trips in Newquay, from half days on the water to a full eight hours at sea, there are many options open to the keen angler wanting to get their fix.
For those who want to sample sea life in its natural habitat, many companies also offer sea safaris, such as Padstow Sealife Safaris, where you can spot seals, dolphins and even basking sharks.
Walking
Cornwall is blessed with some of the most spectacular coastline in the UK. And right on your doorstep is the South West Coast Path, which meanders its way around the Cornish coast. Here you can put your best foot forward on some of the most breathtaking walks in Cornwall.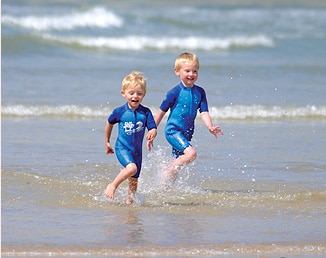 There are currently no Special Offers
Sign-up for news and offers
By sending this form you are consenting to email marketing and the terms of our privacy policy